Published at 2021, November 12th
What are the best examples of projects and websites that plant trees? How are these trees planted and at what price? Let's take a closer look.
Projects that offer tree planting solutions
Before we kickstart this article we feel morally obliged to suggest you read our piece focused on the negative effects of planting trees. There are some serious side effects associated with reforestation practices and you might want to be aware of them before moving on.
This said, there are a significant number of organisations and projects providing tree planting solutions across various locations and following different growing, planting and monitoring approaches.
Below we share some interesting projects we found, together with a brief description of what they have been up to.
Examples of projects that plant trees
Ecosia Trees: more than a simple search engine
We've all heard of Ecosia, the search engine that plants trees for every search we make, right? Besides having "helped" more than 15 million users plant +135,000,000 trees, Ecosia has its own services for organizations: Ecosia Trees.
Ecosia Trees describes itself as "a holistic reforestation service for organisations" that promises to plant trees in the right places". They have +10.000 active sites in 30 countries (in 6 continents) and track their impact and survival rates.
They charge one euro for "planting, monitoring and protecting" one tree.
One Tree Planted: a tree planting partnership with Coldplay
Headquartered in Vermont (USA), One Tree Planted is a non-profit that has planted +30 million trees in +43 countries since 2014.

Claiming to support quality projects and biodiversity, One Tree Planted also plants one tree per donated dollar. They recently became official reforestation partners of Coldplay and committed to planting one tree for every ticket sold on the Music Of The Spheres World Tour.
Tree Nation: choosing which species to plant
Tree Nation presents itself as a non-profit organisation that allows citizens and companies to plant trees all around the world and offset their CO2 emissions. They also tell (at the footer) their website is CO2 neutral and mention they are members of the 1% For the Planet network.

Despite placing at the top of their website that they plant trees for as little as 0,10€, once we dig deeper we can find they have a wide range of prices per tree planted according to the location and species that will be planted.
They also specify how much CO2 each tree species absorbs – but not how long it will take or the likelihood of survival.
Plant for the Planet: it all started with kids who planted for good
After a 9-year-old kid called on children to plant one million trees in every country in 2007, Plant for the Planet has created an academy to raise awareness on 8-14-year-olds about the importance of planting trees to restore the planet's balance.
They have planted +8 million trees – 5,500 trees on average per day – and they are partners of UNEP's Ecosystem Restoration Decade Project.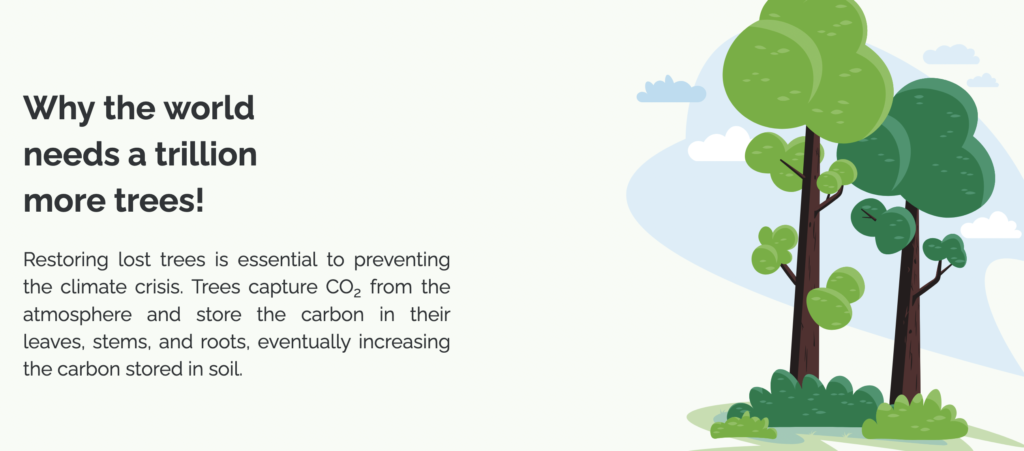 Despite not disclosing how much is charged to plant one tree – they see it more as a donation and from there one can estimate each tree costs around 9€ – they have a CSR solution for businesses that can be explored here.
Trees for the Future: planting trees around Africa
Trees for Future has an option for businesses to "plant trees and save lives" depending on whether the "donation" is above or below $1000. Moreover, each trees costs, on average 25 cents and contrarily to other providers, they don't seem to differentiate the price of trees depending on their species.

Trees for the Future focus their plantation projects in sub-Saharan Africa and they don't seem to estimate how much CO2 is offset – however, they look like a serious project with local (African) roots.
Trillion Trees: a join iniative to plant trees
Trillion Trees is a joint venture of three of the world's largest conservation organisations – WWF, BirdLife International and the Wildlife Conservation Society that aims to protect and restore 1 trillion trees by 2050.

With projects across Asia, Africa and Central and South America, they have a more holistic, science-led approach focused on more than just planting trees. However, they have a specific reforestation branch where one – individual or company – can plant (or restore) trees starting from £3.
The Canopy Project: not so focused on offsetting data
The Canopy Project is part of EARTHDAY.ORG – a 501(c)3 nonprofit organisation – and aims to improve our shared environment by planting trees across the globe.

Despite having good practices like growing tree saplings in nurseries for 6-12 months before planting them – and then monitoring them during the first years – The Canopy Project isn't certified for any current carbon market.
According to them, their focus is empowering local communities and restoring habitat and they simply use the universally accepted standard of 48 pounds of carbon dioxide sequestered per tree per year to estimate the amount of carbon removed from the atmosphere.
National Forest Foundation: planting trees in the USA
Focused on forests in the US, the National Forest Foundation invites all Americans – businesses and individuals alike – to join their reforestation efforts.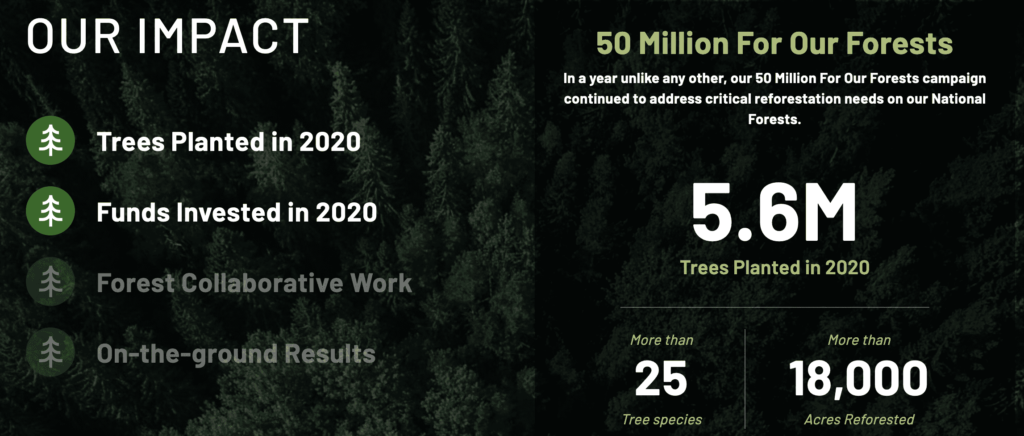 With prices starting at $1, thanks to the help of national Forest Services whose staff provides $2 of value in project support and implementation, they also work with businesses to craft partnerships that speak to their environmental sustainability objectives.
Mossy Earth: a website focused on rewilding
More focused on getting members – rather than donors – Mossy Earth presents itself as a pathway to action, empowering you to fight back and have a real impact by restoring key ecosystems and mitigating your carbon emissions.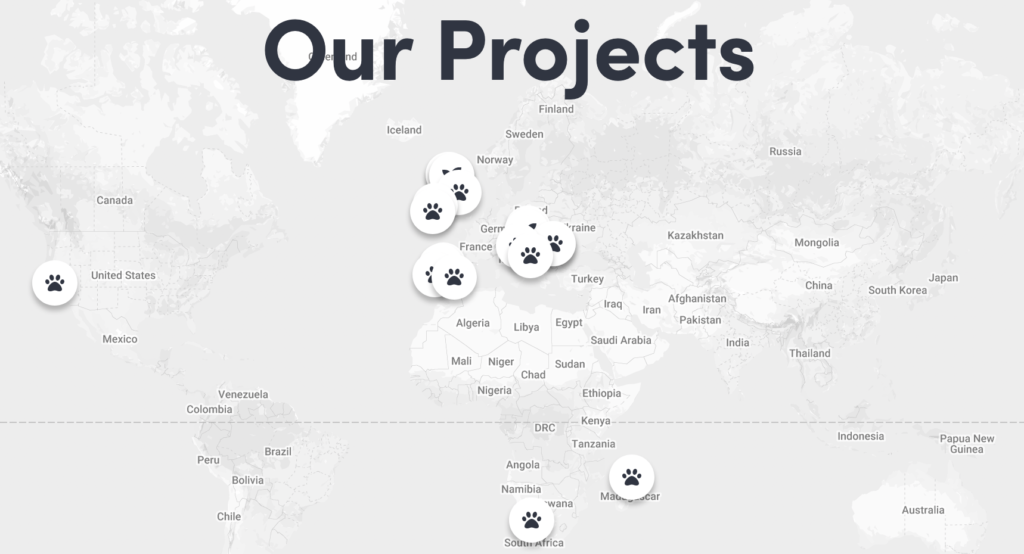 One can become a member of the community for £12/month (£144/year) and with that plant 48 trees a year – the equivalent to 4 trees per month, each worth £3.
They also have memberships for team members (starting at £10 per member) and offer – sell – businesses the chance to fund and craft their own rewilding intervention.
A final note on the impact of planting trees
If you are looking to plant a tree for the sake of it, we recommend getting your hands dirty and feeling the pleasure of doing it yourself.
However, if you want to buy them as part of a business offsetting scheme, mind that preparing the land, monitoring and maintenance means more costs for those planting trees on your (organisation's) behalf. So don't rush into choosing the cheapest tree you can find and instead, make sure you choose one that you can follow up on.
Find some time to do your "homework" and make sure you'll be investing in a project that is actually doing good, reforesting using native species after doing a holistic ecosystemic assessment that makes ecological sense.
Finally and more importantly: leave offsetting activities as a last resource and look instead at how you can change and innovate your lifestyle (or company) and avoid creating those greenhouse gas emissions in the first place.
There's just not enough land for everyone or every company to offset their emissions – reduction must come first.
[Photo by Spencer Watson on Unsplash]