Published at 2020, January 24th
What do Americans expect from businesses? What must companies change to better fulfill the expectations of consumers and citizens? A recent poll from JustCapital and NORC from the University of Chicago sheds some light on these issues.
Expectations Are That Businesses Focus On Employees And Customers
After polling a representative sample of around 4,000 Americans and comparing, on a head-to-head basis, 29 different business issues, the priorities and expectations of the American public were found.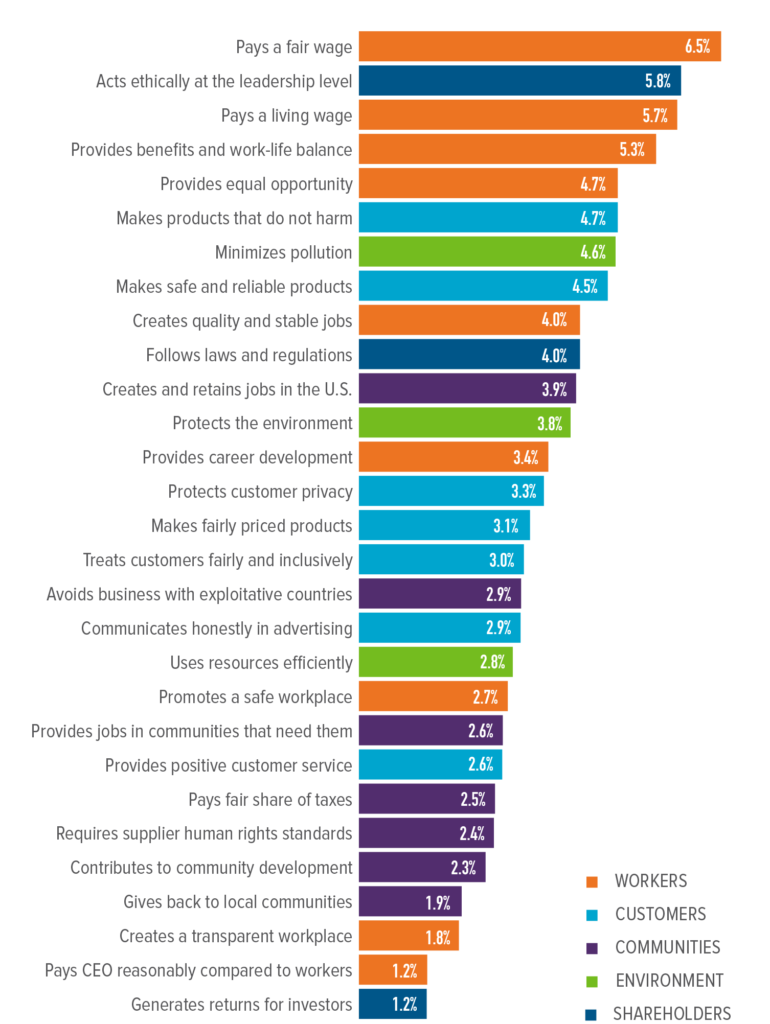 If we take a closer look at the image above, we quickly realize the main concerns of Americans lie on work-related issues like pay, benefits, and treatment. Customers' interests are also highly valued as products are expected to cause no harm, to be reliable and fairly priced – all this while protecting customer privacy. On what concerns shareholders, <acting ethically at the leadership level> stands very high (2nd place) on the rank, showing how issues like transparency, corruption or lobbying are important for Americans.
By looking at the ranking from a more holistic perspective, we can understand which stakeholders end up being prioritized the most by Americans. In this way, by adding percentages, we'll get to the conclusion that the stakeholders most affected by what the American people's expectations from businesses are:
Workers (35%)
Customers (24%)
Communities (18%)
The environment (11%)
Shareholders (11%)
Americans' Trust In Businesses Declined
This report allows drawing conclusions regarding the American public broader views of the business world. And here's something that may not be very surprising: 95% of the total respondents agree that Americans deserve a fairer economy than the one it currently has.
Perhaps not surprising either is the fact that Americans don't believe companies are helping to walk the path towards a more equitable economy. In fact, 51% think large corporations aren't doing well at building an economy that allows all Americans to succeed through hard work and creativity.
Moreover, 79% of Americans think employees don't share enough of their company's success. Compared to the previous year, Americans' trust in large companies declined by 11% – from 54% to 48%. They also perceive companies are having less of a positive impact on society (perception declined 17%, from 58% to 48%). Regarding the impact of business on work-life-balance, the environment, jobs, and local communities, perceptions dropped too.
Americans Choose Companies That Are Working To Make Progress
82% of Americans think they can be effective in trying to change companies' behaviors when they work together. They furthermore believe in the ability of businesses to help solve today's societal and environmental challenges and that themselves, empowered with the right information, can help make a difference by supporting just companies.
To explore the meaning of "driving change", the people surveyed were asked if they had taken specific actions, like applying for a job or purchasing products, based on their identification with a brand's values and behaviors. The results were that 78% said they would accept 10% less pay to work for a more just company.
78 is also the percentage of the people surveyed who said they had taken at least one of the following actions (while 61% of these admitted having done so in the last 12 months):
75% began purchasing more of a company's products or services.
35% attended a community meeting, a rally, or another similar gathering.
34% applied for a job.
38% collaborated with or became a member of an advocacy or activist organization.
40% signed a petition.
44% invested in a company.
64% mentioned a company in social (or other) media.
What Companies Must Change To Meet Expectations
In the end, there's no doubt the American people want to see businesses supporting and engaging with all their stakeholders. From their workers and customers to their communities, the environment, and their shareholders.
Not only this study but others like the one from Accenture or from the Label Insight Transparency ROI Study point towards these expectations. As a result, it is crucial that businesses are able to adopt bold corporate responsibility (CSR) strategies to increase their chances of success in the long run – not only because consumers are expecting, but also because investors and other stakeholders are watching closely too.