Published at 2018, December 6th
Are you looking for eco-friendly, responsible or ethical gift ideas to offer to your friends and family for Christmas? Then we have some ideas to help you out buying or creating original and responsible gifts!
Christmas is usually a period of gifts. Yet, this is not a reason to fall into the excesses of consumption, especially in a time when we should keep a close eye on our carbon footprints.
How can this Christmas consumption hype be coherent with the attempt to pursue a sustainable lifestyle? Though there's no ideal formula for a more responsible consumption other than consuming nothing at all, for those consciously trying to act sustainably and not willing to give it all up there's still a solution: finding (and not necessarily buying) ecological, responsible and ethical Christmas gifts.
There are many good ideas that make it possible to keep the pleasure of exchanging Christmas presents and allow the tradition to live on without surrendering to the often disposable and unconscious consumption world. Below we share 10 ideas based on this mindset.
Christmas Gift #1 – Durable Or Ethical Clothes
WHY IS IT A GOOD IDEA?
Because we all need to get dressed and because people need new clothes as theirs get old and worn. The problem is that we tend to buy from the same brands – which are usually the ones economically strong to have physical stores in shopping malls or good marketing budgets that allow them to have a strong presence in the media.
Unfortunately, these brands are rarely the most virtuous and lack to give (maybe because they don't do it) important information about the sustainability of their stores, materials, processes and supply chains. In fact, many studies have been demonstrating that the fashion industry is one of the most polluting in the world. Yet, there are good sustainable and ethical alternatives!
WHY IS IT AN ECOLOGICAL AND ETHICAL CHRISTMAS GIFT?
Because there are more new brands trying to change the model of fast fashion. These brands offer clothes made of organic cotton and/or recycled fabrics, that were produced using sustainable practices that are good for the environment and that respect human rights and promote labor-power. If you still don't know any brand like these ones, Patagonia, Klow, Panafrica or TOMS, all with online sales platforms, are interesting brands to get to know more about.
Christmas Gift #2 – A Local Cultural Experience
WHY IS IT A GOOD IDEA?
We all enjoy going to a nice show – whether it's a theatre, a concert, a stand-up comedy or a sports event. If you know your loved ones' interests, do a quick search and you'll most certainly find an interesting activity happening near you that would be cool to attend with some friends or your whole family.
WHY IS IT AN ECOLOGICAL AND ETHICAL CHRISTMAS GIFT?
Because if you choose an event happening closeby, you might have the chance to get there using a more ecological transportation method such as the train, bus or underground. You'll also be supporting the local economy as local cultural experiences often help to create employment and local integration since some shows end up empowering weak or isolated people.
On top of all, you'll be creating an opportunity to spend more time together with the people you love and to share new experiences that strengthen your relationships – we're social beings and offering experiences makes us happier for a longer time than receiving material gifts.
Christmas Gift #3 – Food Gifts Or Homemade Cosmetics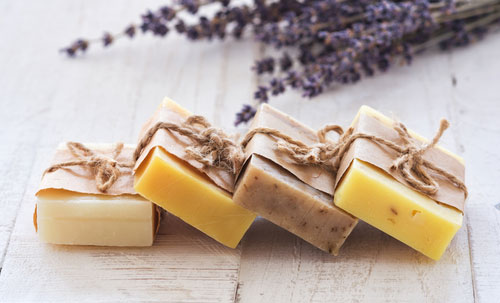 WHY IS IT A GOOD IDEA?
We all have a small greedy side and we all like to take care of ourselves (at least from time to time). A gourmet basket is always a nice to get. And creams or cosmetic products too.
WHY IS IT AN ECOLOGICAL AND ETHICAL CHRISTMAS GIFT?
Because it's homemade! It avoids industrial products often filled with chemical additives, overpacked with unnecessary plastics and that use imported ingredients with sustainability practices that are hard to track. Homemade jam, shortbread or chocolate truffles: it's perfect for Christmas and we know what's inside –  (ideally) the sustainable and local ingredients we bought!
The same is true for a variety of soaps or handmade cosmetics. Besides being a more personal gift than one bought in shops, you can spend quality time with your kids or friends learning how to do it and discovering what's the origin and impact of the ingredients used. You'll also explore your creative side and perhaps open doors to a new hobby – give it a try!
Christmas Gift #4 – A Train Or Bus Ticket For An Original City Trip
WHY IS IT A GOOD IDEA?
We're many times thinking about discovering what's on the other side of the world when there are plenty of amazing and beautiful places to visit close to our hometown or country. And we can agree that most people love traveling, especially the youngest ones, right?
WHY IS IT AN ECOLOGICAL AND ETHICAL CHRISTMAS GIFT?
Because these places can often be reached by bus or train, which avoids taking cars or planes (the most polluting way of transportation). In this way, we're not contributing to warming up the atmosphere with tons of CO2 emissions and we're giving someone (and ourselves, if we decide on a joint trip) the chance of discovering a new place and eventually meeting new people.
Christmas Gift #5 – A Self-Made Home Decorative Craft
WHY IS IT A GOOD IDEA?
A beautiful decorative object is always appreciated and doing it yourself is the new old fashion! In fact, a lot of beautiful and unique things can be done with just a little time, know-how and creativity. From a pretty lamp with a bulb design, a stylish bread wood table, some hand painted flower pots or even ceramics.
WHY IS IT AN ECOLOGICAL AND ETHICAL CHRISTMAS GIFT?
Because we can use reuse some materials long left abandoned in our homes and buy recycled materials or sustainable substances such as eco-friendly glues, paints or woods. And since these crafts are handmade, we'll probably be avoiding heavy polluting processes.
Christmas Gift #6 – A Gourmet Or Eco-Friendly Basket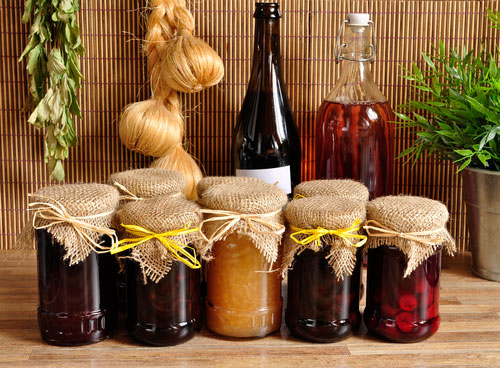 WHY IS IT A GOOD IDEA?
As we've already discussed, everyone has a their guilty pleasures. While some people are wine lovers, others find their guilty pleasures in sweet or savory foods. The good news is that there are many brands that produce organic, ecological, local and high-quality products such as biological wines (using biomimicry practices) or 100% natural jams.
WHY IS IT AN ECOLOGICAL AND ETHICAL CHRISTMAS GIFT?
Because it will support ecological sectors such as organic agriculture whose market needs to grow so that production can increase and prices can get more affordable. At the same time, you'll be supporting healthier products.
Christmas Gift #7 – A Toy, Game Or Decor Object That Is Made Of Certified Sustainable Wood
WHY IS IT A GOOD IDEA?
Nowadays children are flooded with plastic and synthetic objects often rich in endocrine disruptors and that break a few times after hitting the ground. In this way, it'd be great if objects or wooden toys came back to fashion as "vintage" items. Not only because they're rawer and need fewer transformation processes but also because they're usually more resistant, natural and pretty too.
WHY IS IT AN ECOLOGICAL AND ETHICAL CHRISTMAS GIFT?
Because wood is one of the only 100% renewable resources and today there are specific sectors to certify sustainable forest wood which is probably sold in a place nearby you. This is the type of wood that we want to support – wood that comes from sustainably managed forests.
Christmas Gift #8 – Plants Or Gardening Accessories
WHY IS IT A GOOD IDEA?
Because more and more people want to act more sustainably and, as the population is increasingly migrating to urban areas, the need to be re-gain contact with nature is also increasing. Plants are a good way to foster this proximity with nature for people living in flats or in areas with few green spaces. Also: gardening is really cool, improves people's wellbeing, and it makes us re-think about nature's cycles and seasons – and hopefully gives more environmental consciousness to those who receive the plants.
WHY IS IT AN ECOLOGICAL AND ETHICAL CHRISTMAS GIFT?
Because plants have all the virtues: they clean up the indoor air, help people feeling more relaxed, work amazingly as a decoration and help to maintain biodiversity, especially in cities.
Christmas Gift #9 – A Great Book Made Of Certified Sustainable Paper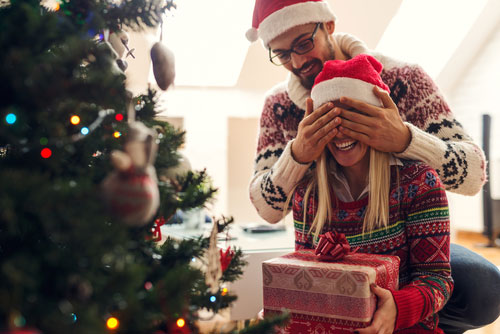 WHY IS IT A GOOD IDEA?
Because reading is a great experience and there are books covering plenty of different topics depending on the interests of the people you're planning to offer them to.
WHY IS IT AN ECOLOGICAL AND ETHICAL CHRISTMAS GIFT?
Because books are, by nature, ecological objects. Although they are made from paper, they're usually more environmentally friendly than their technological equivalent  – such as Kindles and reading tablets – that are manufactured using highly polluting electronic components.
Most importantly, today, most books are made from certified papers because of consumers' who forced the industry players to engage on this subject. If you have any doubt, look in the first or last pages of the book for (the good) logos or acronyms such as PEFC, FSC. And pay attention, if you see acronyms such as ECF it's not guaranteed that the producers follow a cleaner bleaching process that doesn't generate harmful waste – and they might be using excessive quantities of chlorine (a polluting chemical).
Moreover, you don't necessarily need to buy a new book – you can give one you've already read with a special dedication or get a second-hand one from some physical exhange point or online seller. Reuse, reuse, reuse.
Christmas Gift #10 – Why Not Buying Anything At All?
Finally, why not buying nothing at all? Seriously! Of course Christmas is usually the time for gifts, but unfortunately, it is also often the time of overconsumption. Many times we buy things that we are not sure others even need or want, right?
Sometimes, giving our time to our loved ones, visiting them, having a meal together and sharing meaningful conversations and experiences can be a great gift too. There are dozens of ways to gratify others without falling into the temptation of overconsumption – why not dare to find out those that'd please your loved ones?
Perhaps your parents could use some help with Christmas cookings, your grandpas would like to share the history of how they've met and your brothers would go crazy if you played sports or sang with them? Give it a real thought! When others feel like you care and realize that you're spending your time with them are truly paying them attention, that will likely bring more happiness than most presents you can give.
[Images credits to Christmas gifts on Shutterstock, soap gifts on Shutterstock, basket jam on Shutterstock & Christmas love on Shutterstock]