Published at 2020, January 23th
Sustainable soap. Sustainable toothbrush. Sustainable wood. Sustainable avocados. Sustainable coffee. Sustainable palm oil. Sustainable plastic. Sustainable jeans. Sometimes, in the middle of all this sustainable environment, comes the question: how is this sustainability hype progressing? Chances are you've probably seen new products labeled as sustainable in your usual supermarket, because the segment of sustainably packaged products is indeed growing, according to new research.
People Are Buying More Of What's Labeled Sustainable: Doing The Math
We're living in times when companies are being warned to adjust their products and services to the changing expectations of consumers. Why is that? Because the expectations of Millennials or Gen-Xers aren't the same as the previous generations. As studies come out, consumers have been telling they're increasingly concerned about the environment, how they want governments and businesses to act in a transparent and socially responsible way and how they'd buy more from companies showing they care and stop buying from the ones that don't. And yes, consumers seem to have the expectations they state aligned with their wallets.
The study produced by NYU Stern Center for Sustainable Business in partnership with IRI used data collected between 2013 and 2018. According to Whelan and Kronthal-Sacco, authors at HRB, this data came from bar scan codes at retail checkout in products such as food, drug, dollar, and mass merchandisers, in a total of 71,000 products from 36 categories.
The researchers didn't assess whether the products they classified as sustainable were indeed so. They simply assumed a product marketed as sustainable was indeed sustainable. Products branded as "natural" with no other sustainable identification or merely with recyclable packaging were not considered sustainable. The goal of the researchers was clear: they wanted to find out if the purchases of sustainable products increased over time.
50% Of Growth Comes From Sustainably-Marketed Products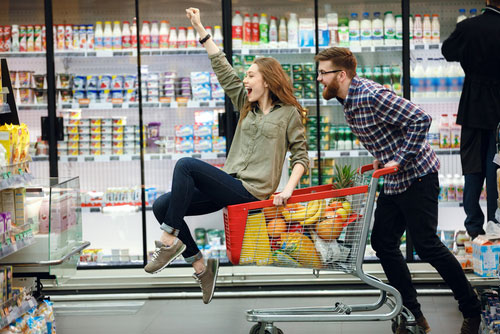 Products that had a sustainability claim on-pack accounted for 16.6% of the market in 2018, up from 14.3% in 2013, and delivered nearly $114 billion in sales, up 29% from 2013. Most important, products marketed as sustainable grew 5.6 times faster than those that were not. In more than 90% of the CPG (consumer packaged goods) categories, sustainability-marketed products grew faster than their conventional counterparts.
We also reviewed which categories had the largest share of sustainability-marketed products. Toilet tissue, facial tissue, milk, yogurt, coffee, salty snacks, and bottled juices were among those with the highest share in their category (more than 18%), while laundry care, floor cleaner, and chocolate candy had less than a 5% share.
It's Time For Business And Political Leaders To Walk The Talk
Consumers are voting with their dollars — against unsustainable brands. The legacy companies that will thrive are those that accept this shift and are willing to pivot, such as PepsiCo and Unilever. Notably, those two companies are doing so despite the objections of investors who criticized Indra Nooyi and Paul Polman, the former CEOs of PepsiCo and Unilever, respectively, for moving away from their traditional brands. But in the end, CPG brands that are not making the pivot will lose — and Heinz, whose investors have encouraged a cost-cutting approach that backfired, is an example. Given the evidence that consumer tastes are changing, an attitude of "why mess with a recipe that has worked well over the last 40 years?" is the wrong one to take today.
Some of the necessary transformations can be accomplished by reinventing legacy products, as Unilever has shown with its "sustainable living" brands, now delivering 70% of its turnover growth. These brands speak to consumers' interest by aligning their shopping with consumers' values: Hellmann's uses 100% cage-free eggs in its U.S. products, for example. Small brands in this space are also attracting the bigger players' attention — Unilever has purchased brands with loyal followings such as Seventh Generation, Sundial Brands, and Pukka Herbs.
In the end, corporate leadership should no longer give brand managers a free pass when they claim that there is no demand for sustainable products. And investors truly need to support companies in making the investments needed to start becoming more sustainable.