Published at 2018, December 19th
Did you ever wonder about the ecological impact of your Christmas tree? Is it more sustainable to buy an artificial tree or a natural tree? In the U.S most people prefer natural trees but is this the best choice for the environment? Let's find out.
Christmas Trees – An Easy Choice?
Throughout the years, Americans have favored putting their presents under a natural Christmas tree. In 2017, in a total of 48,5 million Christmas trees purchased in the U.S., 27.4 million were pine trees and 21.1 million were artificial Christmas trees. And in the UK alone, 8 million Christmas trees are bought every December.
In some places cutting down Christmas trees with family is an unquestionable traditional and for others who buy them instead, it's all about the natural fragrance of the pines and the joy of having a bit of nature indoors. Artificial Christmas trees, on the other hand, make no pine needle mess and are probably a cheaper investment that'll last for some years and require less logistic efforts.
Many times our opinion about having a natural or artificial tree is based on tradition, aesthetic or affordability. But shouldn't we take the environmental cost into account too? One might think that cutting down trees is synonym with deforestation and that this bad as it may affect biodiversity and reduce Earth's ability to capture CO2. On the other hand, artificial trees can be reusable for many years if they're handled properly. Therefore… artificial trees here we go? Wait! Not so fast!
Natural Christmas Trees VS Artificial Christmas Trees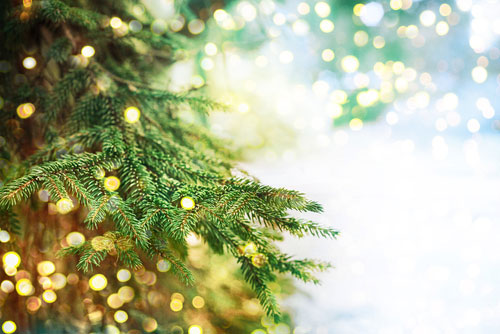 While artificial Christmas trees may keep their needles intact, they're most likely made from petroleum-based products such as PVC, polyurethane foam or steel that take quite some energy to be produced. This means that although they can be used for many years, they're probably not recyclable and the chances are that after those years they'll end up in a landfill site for centuries. At the same time, most of these artificial trees have probably been flown from China, which means they bring along a huge environmental footprint as airplanes are the means of transportation that emits the most CO2.
As for natural Christmas trees like spruces or pines, they are carbon sinks that absorb the greenhouse gas CO2 as they grow. So when a Christmas tree of about 1,50m is taken out, it's estimated that it has helped to remove about 3 kg of CO2 from the atmosphere. And unless everyone starts picking up trees from natural woodlands or forests (which is forbidden by law and usually requires a special authorization), most of the natural trees that are bought for Christmas pines are grown on farms where farmers will replace the area of the taken out pines with new ones.
In the end, natural Christmas trees are often more ecological. The environmental impact of producing a natural Christmas tree is about the same (slightly less) than that of an artificial tree if we only look at the energy and resources consumed during the production stage. But if we broaden the field of analysis, we realize that natural spruces have a lower overall environmental impact, with the Carbon Trust estimating that a two-meter-tall artificial tree has twice the carbon footprint of a natural tree that ends up in a landfill.
Ecological Tips For Natural And Artificial Christmas Trees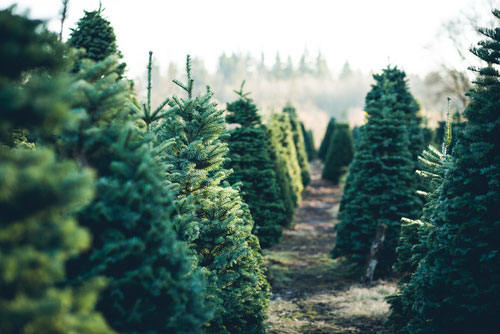 If You're Choosing A Natural Christmas Tree
You are really concerned about the environmental impact of your Christmas, you're ok with spending some extra money for this end and you have some time and energy to waste on the logistics it requires? Then we have some tips for you:
Buy a locally grown sustainable Christmas tree. If you want to be completely sure your tree was grown in an ecological way look for the FSC or PEFC certification logo that ensures it came from a sustainable place. Look also for a Soil Association logo that works as a guarantee that your new tree's production was organic and pesticide-free
Rent a living Christmas tree: you'll have the authenticity of a natural tree and as it may be delivered to your door and collected when Christmas is over there it will be less of a hassle. Companies like Rent-A-Christmas in NYC or Superplants in London are doing these services and others close to your town must do the same service too. Give it a look but remember to make sure they are grown sustainably
Buy a potted Chrismas tree with roots: this way you can grow it outside your house and reuse it again on the next year. It's a great option to have a low environmental impact and your wallet will like it too.
Recycle: if you can't reuse it, remember to take your natural tree to a specific location where it can be recycled by local entities and turned into compost or mulch for woodland and parks.
If You're Choosing An Artificial Christmas Tree
If you have an artificial tree already, keep using it and make it last as long as possible. Nonetheless, look for more ecological options when it's time for replacing it. And if you want to keep having an artificial tree because of allergies or for other reasons try to buy a second-hand one using platforms such as eBay or Amazon. If you prefer to buy a new one instead, look for an artificial Christmas tree that's made with as much PE (polyethylene) as possible, which means it will have less PVC – a highly polluting and non-recyclable plastic.
Preparing A Merry And Ecological Christmas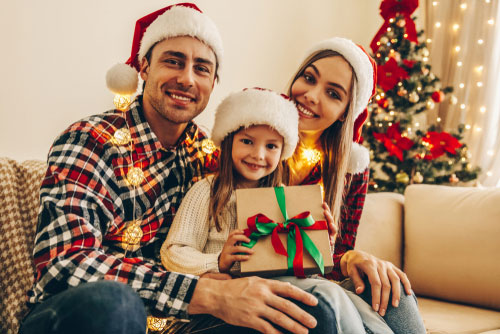 An ecological Christmas isn't just about the "natural vs. artificial" Christmas tree dilemma. Once the trees are at home, it's important to bear in mind to decorate them in an ecological way. Choosing LED or low energy light garlands, together with selecting flashing modes that consume less energy than the standard ones are easy jobs for any ecological taskforce ready to make this year's Christmas a little greener.
If you're open to an out-of-the-box ecological Christmas and willing to let the tradition aside, you can always choose a minimalist Christmas tree that's homemade with cardboard, wood or recycled materials. This alternative isn't just ecological and affordable, it's also a chance of getting your hands dirty with arts and crafts, using your creativity and perhaps spending some quality family time.
But remember that the decisions around the Christmas Eve menu are also important if you're looking forward to a more ecological Christmas. There are always a lot of sustainability issues around the food we eat and on Christmas time it's no different – so remember to try buying locally produced foods that have a lower carbon footprint and most likely, fair social practices too. Refuse plastic cutlery and dishes, make sure you do your recycling and of course, mind the gifts you're buying as well! Offer more experiences, handmade presents and support fair trade and ecological products.
Image credits to Christmas tree on Shutterstock, Christmas tree on Shutterstock & Christmas family on Shutterstock