Published at 2019, March 11th
Global CR RepTrak 100 is a global survey that rates multinational companies while accounting for their corporate social responsibility (CSR) reputation. During January and February 2019, the study collected the opinion of 230,000 people from the general public across the 15 biggest economies. What are the companies with the best CSR reputation? Let's take a look.
Building A Company's Reputation And The Importance Of CSR
Market share, sales volume, license to operate, loyalty and profitability are all organizational performance metrics influenced by people's intents of purchasing, accepting, advocating for or investing in a brand. This intent is built on the perception people get from companies in dimensions such as:
Product. They have good quality products that meet needs.
Governance practices. They are open, transparent and ethical.
Workplace practices. Equal opportunities are given among employees and they are rewarded fairly.
Social responsibility. Social and environmental causes are supported.
Leadership. They have bold leaders with a clear mission and vision of how to get there.
The public judgment of these attributes is the result (often unconscious) of paid, earned and owned media which people see every day. Sometimes it is a tweet, tv ad, or billboard that helps us assess whether a brand meets our values or not. People also use the power of digital to scrutinize these aspects of a company and to clear out their expectations.
Apart from RepTrak's results, another recent study from Unilever says consumers are buying what brands advocate for and not just what they are selling. Studies show people are increasingly concerned about sustainability and want companies to be more transparent. Therefore, it's vital that companies develop their corporate responsibility strategies (CSR) and communicate them throughout the most indicated channels. As the Rep Institute says, to avoid risk, companies must know how to proactively manage reputation, deliver on stakeholder expectations, and mitigate against risk by delivering on reputation assurances.
The Top 10 Companies With The Best CSR Reputation
Rolex
Lego
Disney
Adidas Group
Microsoft
Sony
Cannon
Michelin
Netflix
Bosch
Meet the top 10 companies best prepared to mitigate reputational risk and failure. These are companies that proactively managed their reputation and delivered the messages their stakeholders were looking for via the right communication channels. By having done so, they can now enjoy the trust of their investors, employees or customers and they are seen as caring about many other issues apart from profit – like ethics, innovation, environmental causes or well-being at the workplace.
Let's take a closer look at the three companies with the best reputation and analyze two other relevant brands that come up in the top 10.
Number 1 Rolex. Companies With The Best CSR Reputation
Rolex has been one of the top 10 most reputable companies in the world for four consecutive years. The brand has a unique ability to connect its products to the company and trigger emotions to its stakeholders by anchoring its values in high-profile personalities. For instance, Roger Federer is an unquestionable symbol of excellence (Rolex has a great score regarding product quality) and resilience. At the same time, the marine biologist Sylvia Earle is exploring the ocean and protecting ecosystems (Rolex also has a large score on the environmental protection area).
Number 2 Lego. Companies With The Best CSR Reputation
The Lego Group is on the top 10 list of the most reputable companies in the world for the third year in a row. The Danish brand already has a steady and strong presence as it builds a coherent story-line with its values of sustainability, education and societal contributions. Most recently, they replaced their plastic materials with plant-based plastics from sugarcane; one more way the company has pushed their CSR values.
Number 3 Disney. Companies With The Best CSR Reputation
The Walt Disney Company swopped places with The Lego Group since the 2018 ranking. According to RepTrak, Disney scores higher in the areas of leadership and financial performance. Furthermore, this is an iconic, caring company that has enjoyed an emotional connection with the public for many generations. Taking a closer look at Disney's own CSR report, we can see it is consistent, well organized, and connects to the global reporting initiative (GRI) framework too.
Number 5 Microsoft And The Hard Time For The Tech Industry
The recent scandals on data privacy and transparency have made many tech industry players, like Google or Facebook, drop in the reputation rankings. However, Microsoft resisted and sits #5 in the global ranking. By being transparent regarding product updates and bugs, the American company improved its reputation of empowering every person and every organization on the planet to do more – the company's mission. Increasing the connection of its products and services with the company's purpose and ethics, as well as selling products at more competitive prices, all helped the company receive this score.
Number 9 Netflix. Companies With The Best CSR Reputation
Hello Netflix, welcome to the top 10 ranking for the first time after being #24 last year. Throughout 2018 Netflix kept positive conversations focused on the business expansion and subscriber increase. This way, they developed an image of innovation. Their leadership started to be seen as a positive disruptor among the main media and film industries. By removing Kevin Spacey from House of Cards, one of Netflix's top shows, they sent a clear message about the company's priorities. They said no to the possibility of sexual harassment, no matter the costs. In the end, despite the (likely) money loses, the company seems to have gotten stronger in terms of ethics.
The Top 100 Companies With The Best CSR (Corporate Social Responsibility) Reputation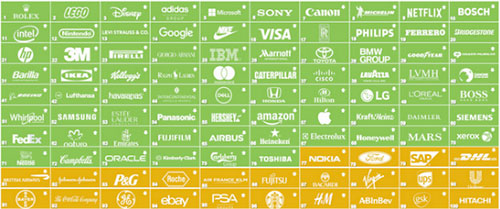 By looking at the ranking above, we can see that Google fell to 14th place, and Nestlé went from 38th place in 2018 to 71st this year. The highest fall was from Nissan, which isn't even in the top 100, going from the 20th position to number 115. On the other hand, Estée Lauder Companies have been climbing and improving their reputation, presence, and relevance. Carlsberg has also jumped 18 places. The company announced its commitment to carbon neutrality and water consumption reduction.
Moreover, the strategy of sending messages associated with the Danish happy, work-life balanced and natural lifestyle, seems to be paying off. This ranking brings together the companies that did the best job communicating their strategy and values. They sent the right message to the right people via the right communication channel but this doesn't necessarily mean they are better, more responsible or more valuable than others. In fact, this ranking mirrors citizens public perceptions.
So the companies scoring higher succeeded in communicating effectively their CSR strategies, even if they don't have the most effective strategies in the world. In the end, this ranking is another confirmation that CSR is an indirect synonym of corporate reputation as people are increasingly expecting brands to be more responsible, transparent, ethical and to care about society and the environment.
Those that haven't started looking for their higher purpose, as Raj Sisodia from the Conscious Capitalism movement would put it, need to start doing it as soon as possible. The companies already doing it need to make sure they reach their audience. In a world with an overabundance of flowing information, reaching everyone might impossible – but reaching the right people surely isn't.
Image credits to corporate reputation on Shutterstock