Published at 2018, October 31th
The World Cities Day is centered on resilient cities and communities. But what does it mean to be resilient? And what key learnings can we take from this day?
Celebrating the World Cities Day and Resilient Cities

The 'World Cities Day' is celebrated every year on 31st of October since its first anniversary in 2014 and this year's main event is being held in Liverpool, UK. The United Nations General Assembly decided in 2013 that the last day of October would be the official date to reflect, discuss and make commitments around the sustainable goal of development number 11 – sustainable cities and communities.
Similarly to the previous 4 editions, the main moto of the "World Cities Day" is Better City, Better Life. Nevertheless, every edition has its own particular theme and in the 2018 celebration, the specific theme is Building Sustainable and Resilient Cities. This year's meeting has 3 clear purposes:
To enhance the cooperation among cities and countries in order to tackle the challenges of urbanization. Here, the knowledge shared on urban solutions implemented at the local level is fundamental, as well as the comprehension of the impacts and developments of climate change;

To create awareness in the international communities about the challenges and the transformations happening in global urbanization;

To help to develop a new urban agenda to achieve the sustainable development goals (SDGs).
Why Do We Need Resilient Cities? The Impacts Of Climate Change And Human Caused Disasters
With 1.4 million people arriving in cities every week, the world's population living in cities and urban areas is expected to rise from 55% today to around 70% in 2050, according to OECD. Having more people together in cities is bringing and will bring further challenges such as waste management, transportation (such as the rise of electric cars and charging stations), environmental degradation, economic shocks, migration and demographic shocks, violence, crime or discrimination, among others. 
Nevertheless, the cities and communities of today are already struggling with the impact of natural and human challenges. On the one hand, there are human conflicts and wars, economic challenges that reduce people's quality of life and governance and political failures. On the other hand, estimates are that natural disasters like droughts, floods or earthquakes have affected over 220 million people and had an economic damage of US$100 billion per year.
The forecasts for the challenges mentioned above don't look very good either. In fact, the recommendations addressed by the IPCC to industries and policymakers in order to keep the temperature of the planet below 1,5 and 2ºC look almost like an impossible mission. And if we fail on this mission, climate change extreme events will only get stronger and more usual. As a consequence, estimates from the World Bank are that if cities don't get more resilient by 2030, natural disasters may cost cities all over the world around US$300 billion and climate change alone could push 77 million people back into poverty. But how can we face these urban challenges and what does it mean for cities to get more resilient?
How To Build More Resilient Cities & Give 'Urban' A Different Meaning
This year, the World Cities Day is a call out to mayors, local and national governments, scientists and citizens about the importance of building resilient and sustainable cities. But what is the meaning of a resilient city? Resilient cities are cities that can better handle natural and human-made disasters, protect human life, absorb the impact of economic, environmental and social hazards and promote well-being and inclusive and sustainable growth. But can we build resilient cities like these?
There is no magic formula on how to build sustainable and resilient cities, especially because changes in cities are ongoing and non-stop and we can't just stop and freeze the whole life in a city, rebuild and fix it with the authorization of all the players involved and the with someone else's money and press play again. Nonetheless, the United Nations pointed out 4 main guidelines that can be considered:
Diversifying the economy (e.g betting more on circular economy models), creating business and employment opportunities and engaging with the private sector are good ways of protecting cities against economic shocks;
Cities need to be planned in order to minimize their overall effect on the environment, infrastructures need to be strengthened and big efforts must be placed at public education in order to build climate and environment resilience;
Educating citizens to act democratically, sustainably and inclusively and encouraging them to have an active voice on local and national decision making is the way to build socially cohesive societies;
Responses to disasters in urban areas can promote greater resilience to future crises and support long-term development goals.
Examples Of Sustainable And Resilient Cities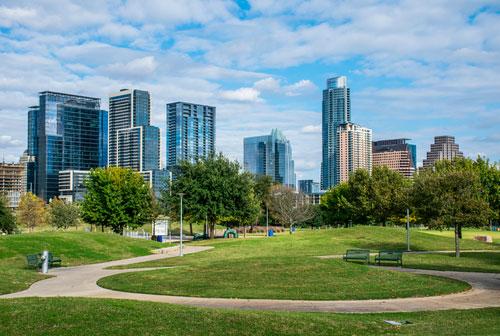 In the end, transforming cities and making them more resilient can be a complicated task. New and innovative tools, methodologies and ideas that can empower city halls and citizens, backed up with the support of governmental policies, are urgently wanted. But in fact, these solutions aren't as hard to find as one might think. In Bangkok, huge water facilities have been built to fight the risk of floods and to prevent the possibility of droughts. Telaviv is becoming an amazing technological hub for entrepreneurs, Copenhagen has plenty of car-free zones with great air quality and Quito is preserving over 200,000 hectares of land in order to protect its soil, water, and biodiversity.
On the technological side, smart integrated solutions are also being developed and implemented and promise to revolutionize the way we manage our waste, parking, and traffic. As well, this kind of solutions can also improve the air quality of cities, which would be of great value in a time where the World Health Organization announced that over 40% the world's population is exposed to high levels of household air pollution.
In the end, there is no doubt on how hard it is to manage all these different challenges but perhaps step by step we'll get somewhere. With 6 billion people expected to live in urban areas by 2050, we're left with the same old and well-known choice as always: to find out new solutions and adapt. But during our journey, let's remember – let's find ways of remembering and keeping this memory alive – that the world's ecosystems are essential for our survival and stop treating them as a 'nice to have'. If we forget about our life supporting systems, as a recent study from WWF that says that humans have wiped out 60% of animal populations since 1970 points out, it doesn't matter how many steps – we'll be walking towards the wrong direction.
Images credits for Shutterstock on resilient cities house flooding, resilient cities skyscraper & green spaces