Published at 2018, February 5th
Though everyone now knows how beneficial vegetables are, we still fail to meet daily nutritional requirements. Like so many of the fundamental lessons we learn, good dietary habits are formed when we are children. It is therefore vital that we teach our children to love healthy foods starting from a very early age, and that includes foods like veggies that are often met with frowns and refusal. So why do children refuse to eat vegetables they have never tried before? How can we make those vegetables seem more familiar to children? With Epicurium, the Louis Bonduelle Foundation has tested different strategies to identify which are most effective. The results may surprise you !
Why is it so hard to get children to like veggies?
We learn a large number of things during childhood. This includes information about the food we eat. For example, we learn to distinguish what foods are culturally acceptable and which are not and we master the use of utensils (or not, depending on the culture). What is more, through our food experiences, we learn to recognize the texture and taste of various foods and we see how foods affect our bodies. We learn to love foods that leave us feeling energized while we avoid those that give us stomach aches.
Most flavors are discovered and found appealing starting in childhood, not just sugary flavors. Many studies have shown that what we discover and like during childhood will probably still appeal to us when we are adults. We must therefore discover and learn to like healthy foods as children, eating as many different vegetables as possible while we are young.
At around 18 months old, many children start to reject any new foods presented to them. Out of caution, the child may see any food that does not match what they had in mind, what they have already tried, or what they know well as a potential poison. This rejection of new things explains why a child who loves grated carrots will reject a plate of grated carrots seasoned with a green herb. Because of the risk of "contamination," even if the green thing is removed, the child will refuse to eat it, thereby applying a principle of caution.
For this reason, when it comes to food diversification, the key is to make vegetables as familiar as possible as early as possible for children. To this end, instructors are trying to multiply the number of experiences children have with vegetables (as long as the experiences remain positive) though cooking workshops, vegetable gardens, exhibitions, board games, hero stories for children, figurines, and more.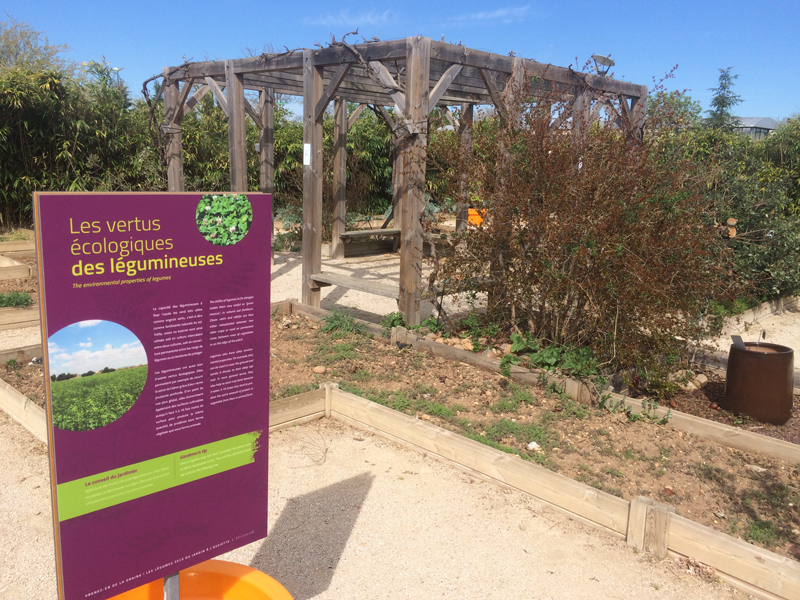 The Epicalim Project by the Louis Bonduelle Foundation aims to identify the most effective strategies for familiarizing children with vegetables
The Louis Bonduelle Foundation is acting concretely to affect sustainable changes to dietary habits (see the previous article). In February 2016, it launched the Epicalim project, named after its primary partner, the Epicurium Museum (learn more about the museum).
As a discovery center devoted exclusively to plants from the seed to the plate, Epicurium promotes the principles of sustainable diets that are healthy, environmentally friendly, and locally focused (the Epicurium Museum itself is in the Vaucluse department of France). Epicurium fulfills this mission with an original, playful approach using different formats (including events, workshops, and conferences) to raise the awareness of as many people as possible.
After it won the Louis Bonduelle Foundation's call for projects in July 2016, Epicurium first developed an exhibition on legumes. The partnership then continued with various actions aiming to raise awareness of the benefits of eating legumes. Interested in measuring the impact (particularly the relative impact) of real actions on dietary habits, the Louis Bonduelle Foundation decided to launch the Epicalim project hinging on two in situ studies.
The methods for these two studies were established by the Foundation's scientific team and were approved by Marie-Josèphe Amiot-Carlin, the president of the Epicurium Association and nutritional research director at the French National Institute for Agricultural Research (INRA).
Study 1: Measuring the relative impact of one-time workshops on dietary habits
The first study had a dual objective :
to measure and compare the impact of three types of fun workshops (namely, cooking workshops, gardening workshops, or guided visits of an exhibition) on the consumption of a beans recipe for elementary school children.
to measure if the impact of these workshops is different when the beans are prepared as in a dish where they are recognizable during the activity (for example, whole or in a salad) or in a different form (for example, in a puree). This second goal examines an idea that has never been studied in the literature, but which is nonetheless vital since vegetables are distinctive in that they can be cooked in many different ways.
The experiment included 218 children in first, second, and third grades from eight schools in various urban and rural neighborhoods representative of the area around the French city of Avignon. Before the study, the children answered a questionnaire to assess their tendency to reject new things. This tendency is a character trait that is as variable in humans as the willingness to take risks. In groups of 10, the children participated in one of the three activities: a cooking workshop, a gardening workshop, or a guided visit of a fun exhibition. Then, before eating a picnic, the children were simultaneously offered two recipes using beans: a salad and a puree. After they ate and when they were not looking, each bowl was weighed to the gram to determine the amount eaten.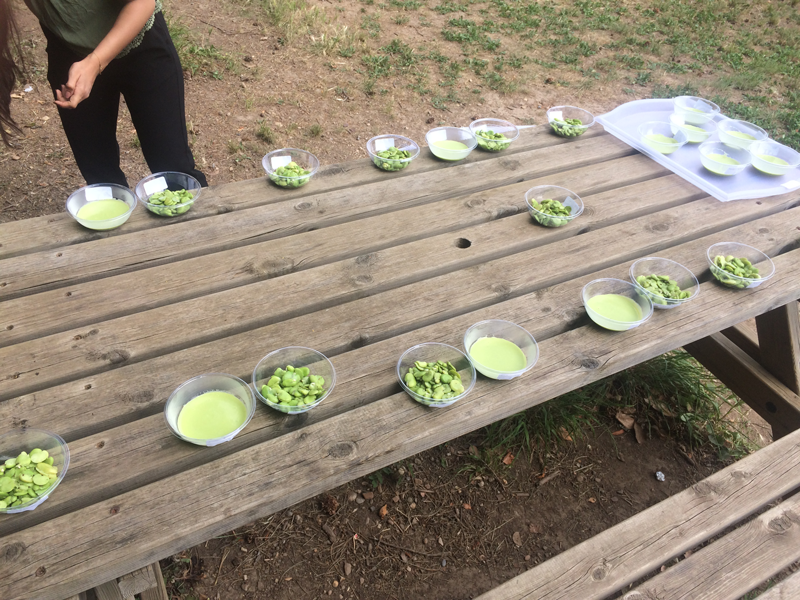 The results were as follows :
the children who participated in the cooking workshop ate significantly more beans than those who went to the fun exhibition.
the gardening workshop was as impactful as the cooking workshop, but only for children who were unlikely to reject new things. For the children who did tend to reject new things, the effect of the gardening workshop was similar to the effect of the exhibition visit.
These results were observed regardless of the recipe offered (i.e., the puree or salad).
Study 2: Measuring the impact of a memory game on dietary habits
Designed to measure the effects of a memory game on vegetable consumption by children ages 4 to 5, this study also had two objectives :
to understand if a memory game using pictures of vegetables could promote vegetable eating among children.
to understand if the effect is only there for a well-known and liked vegetable or also for a vegetable the children do not know well.During a school trip to the Epicurium Museum, 92 children ages 4 to 5 from five different schools were invited to play a memory game for 15 minutes before lunch time. Half of them placed with a game that included objects and the other half with a game that included carrots (a well-known vegetable) and red lentils (not as well-known). Then in each group, half of the children were invited to eat a salad of grated carrots, and the other half a salad of red lentils. Once again, after they ate and when they were not looking, each bowl was weighed to the gram to determine the amount eaten.The results showed that playing a memory game with vegetable pictures tended to have a positive impact on vegetable consumption, but only when the vegetable is familiar.
Choosing fun activities based on children's temperaments
Of course, one obvious recommendation in the face of rejection of new foods is to familiarize children with as many different vegetables as possible as young as possible. One type of activity, the cooking workshop, seemed to work better for all children, regardless of temperament.
When it comes to the gardening workshop, the recommendation differs depending on the child's character. If you see that a child is inclined to reject new foods, presenting them with a new vegetable in a vegetable garden may limit their consumption of it. However, if your child is not inclined to reject new foods, letting them harvest the vegetable themselves and discover the plant will encourage them to eat it.
These recommendations are based on works that studied the impact of a single, one-time event on consumption of a vegetable children do not know well. The results cannot be generalized to apply to regular visits to a vegetable garden or consumption of a vegetable children know well.
Following the initial interesting results obtained through the Epicalim Project, the Louis Bonduelle Foundation hopes to use these works alongside existing scientific literature in a best practices guide for actors who want to undertake concrete actions for raising awareness aimed at children.
In 2018, the Louis Bonduelle Foundation will continue its efforts with another partner, the Institut de Tourisme et d'Hôtellerie du Québec (ITHQ), whose research center organizes many operations to raise the awareness of the public. This is yet another field for the Louis Bonduelle Foundation to explore as it continues to implement its methodologies for measuring the impact of efforts on various dietary habits.