Published at 2017, February 7th
For two years, Bonduelle and its corporate partners have been using the annual Paris International Agricultural Show as a chance to meet the public and consumers. Their objective? To spread the message of responsible agricultural practices. In December 2016, Bonduelle decided to go one step further, transforming the meeting of its "stakeholders" using an innovative concept taken from the IT world that is designed to stimulate creativity: the hackathon. Anne-Sophie Ketterer, who is responsible for driving change at Bonduelle, provides a rundown of this initiative.
Uniting stakeholder opinions and skills
A hackathon refers to an event at which a group of volunteer developers come together to engage in collaborative computer programming over a number of days. This inventive process is often used in the domain of digital innovation.
Bonduelle chose to borrow this creative initiative and then added to the concept: it invited representatives from the various groups making up its stakeholders to a meeting intended to facilitate collaborative working and the exchange of ideas, with an end goal of creating concrete projects.
The event was made up of various Bonduelle employees from a range of areas, including agronomic, IT, digital, marketing, PR, social media, and direct sales—many of them are departments that do not usually work together. The stakeholder side also saw a wide variety of participants, ranging from farmers and PR agencies to consumers and social entrepreneurs.
For a day and a half, 50 participants discussed the following topic together: How can we highlight the importance of responsible agricultural practices to the public?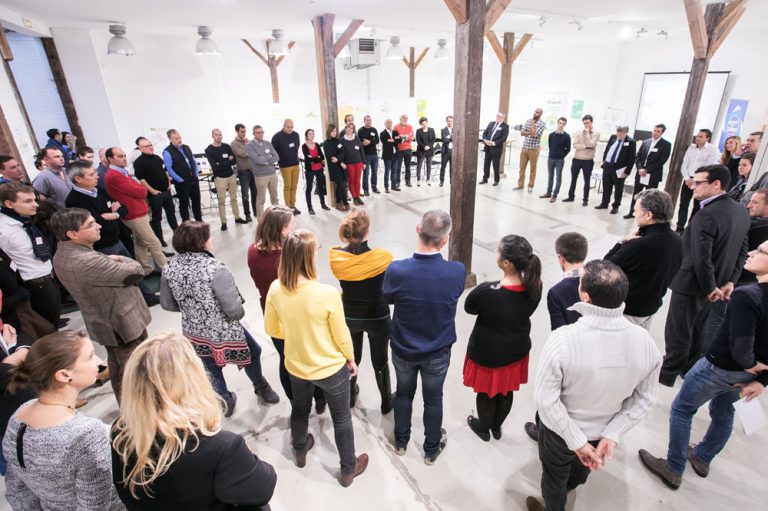 The hackathon: An innovative way of encouraging co-creation among stakeholders
This hackathon was led by Corporate for Change, a socially minded start-up born from Ticket for Change, which is a "harnesser of talent"; its goal is to help entrepreneurs and intrapreneurs find, engage, and use their talents in order to help solve issues in society.
The session began with a presentation from Bonduelle's Corporate Social Responsibility (CSR) department and the Group's farming partners. This initial talk allowed the various external participants in attendance to become familiar with the close relationships that Bonduelle builds with its farmers in order to produce field-grown vegetables for its consumers.
The hackathon was organized into four subsequent stages:
Awakening energies: A company choreographer broke the ice and, more importantly, raised the group's energy level. Beginning with an exercise that involved the participants planting their feet firmly on the ground, Ucka Ludovic Ilolo (Founder of O'Motion) led the group as, collectively, they became conscious of how the movement of their bodies could be used to achieve a common objective. This exercise stimulated enthusiasm and a spirit of co-operation within the group.
Inspiration: A farmer, a start-up company (Miimosa, a crowdfunding platform specializing in the agricultural field), and Pierre-Yves Sanchis (of e-csr.net) introduced their jobs and their industries. The objective of this stage was not only to share the speakers' thoughts on the challenges facing the agricultural sector and explore inspiring projects that had been carried out, but also to shine a light on the expectations that are placed on the industry, on individuals, and on consumers.
Generating ideas: Various questions were divided up across a number of stations (e.g. What does it mean to be a responsible purchaser at the store? How can we, as citizens, take care of the planet when we are also consumers? How can we paint responsible agricultural practices in a positive light when speaking to the general public?). Participants went from station to station in order to brainstorm and suggest preliminary answers to these questions. Sixteen ideas were born from this process, and participants were divided into seven groups based on their interest in the ideas put forward.
Creating a prototype and pitching: The second day opened with a 20-minute training session on prototyping, a practical way of presenting a project that involves placing the four basic elements of that project (i.e. its context, its aim, how it works, and its benefits) in a box. After this session, each group worked to develop their ideas and co-create a "pitch" to accompany the project prototype.
This meeting of stakeholders was innovative in two ways: it encouraged the use of entrepreneurial practices commonly used by business incubators, and it also gave individuals who would not otherwise have had the chance to meet one another to create a project together. Bonduelle marketing executives and its farmers, for example, who work all year round in pursuit of the same goal, got the opportunity to learn more about each others' careers. Consumers, meanwhile, discovered more about how Bonduelle works, and left the event convinced that conventional and responsible agricultural practices are both compatible and complementary.
Having seen the level of enthusiasm that was generated during the hackathon, Christophe Bonduelle, CEO-Chairman of Bonduelle, invited all the participants to talk further during a lunch held as part of the International Agricultural Show on March 3rd 2017.
Seven inspiring projects "pitched" before a panel of seven judges
The day ended with seven groups presenting their projects before a panel made up of Bonduelle's internal staff (employees from the agronomic department, Bonduelle brand personnel, and Group management) and external individuals (an agronomic researcher, social entrepreneur, and sustainable development consultant).
From these seven projects, the panel selected the Agri Party project as the winner; the Bonduelle Group then chose to develop this project further. Agri Party is an event celebrating agriculture: the idea is that farmers invite consumers to discover how they work on a daily basis, showing them the processes involved in bringing produce from the field to the table. This involves demonstrations of agricultural work in the fields, cookery classes with chefs, and a fun-filled meal!
At the International Agricultural Show in 2017, the concept was tested out by the project team itself (i.e. the same group of internal and external stakeholders that had come up with the idea) on the consumers and attendees at the event—and the first Agri Party subsequently took place in September 2017 !
As the Agri Party initiative is implemented, the project team will be enriched by new members who can bring other necessary skills to the table. That's the power of the hackathon: it brings people together and encourages its participants to find new ways of working as a unit.